NYC SMOKE-FREE - NO SMOKING OR ELECTRONIC CIGARETTE USE SIGN- NYC SMOKE- FREE AIR ACT SIGN- BLUE BACKGROUND (ALUMINUM , BLUE BACKROUND)
NYC SMOKE-FREE - NO SMOKING OR ELECTRONIC CIGARETTE USE SIGN- NYC SMOKE- FREE AIR ACT SIGN- BLUE BACKGROUND (ALUMINUM , BLUE BACKROUND)
"NO SMOKING OR ELECTRONIC CIGARETTE USE SIGN- NYC SMOKE- FREE AIR ACT" SIGN – BLUE BACKGROUND (ALUMINUM 8 x 10)
"NO SMOKING OR ELECTRONIC CIGARETTE USE THIS IS A SMOKE- FREE ESTABLISHMENT. TO REPORT VIOLATIONS OF THE LAW, CALL 311 OR VISIT NYC.GOV/HEALTH FOR HELP QUITTING SMOKING, CALL 866 NY QUITS" SIGN
Size 8 Inch x 10 Inch
Sign Material: Aluminum
Sign has mounting holes in each corner.
Round Corner
Sign Thickness 0.02''
Sign letters color: WHITE
Sign background color: BLUE
Sign Type: Wall Mounted
UPC: 602927414542

 This is an aluminum "NO SMOKING OR ELECTRONIC CIGARETTE USE THIS IS A SMOKE- FREE ESTABLISHMENT.TO REPORT VIOLATIONS OF THE LAW, CALL 311 OR VISIT NYC.GOV/HEALTH.FOR HELP QUITTING SMOKING,CALL 866 NY QUITS" SIGN with BLUE BACKGROUND & WHITE LETTERS

This is a tyoe of HPD aluminum NO SMOKING SIGN with holes for installation.In NYC use/post sign to inform owners/tenants/guests/customers/officers of designated no smoking area and room in facility with proper HPD designation

Smoking and Tobacco Control Laws
The Health Department supports the enforcement of laws enacted to protect the health of city residents from the harmful effects of smoking and secondhand smoke. Our goal is to improve compliance and strengthen smoke-free air laws, reduce the access of minors to tobacco, and restrict the availability of discounted or untaxed tobacco products. We provide technical assistance to organizations, vendors and worksites implementing these laws, educational materials on responsibilities and rights under these laws, and trainings and presentations to various groups regarding these laws. The following laws are addressed in greater detail.


Smoke Free Air Act (SFAA)
This act protects the health of New York City workers against the harmful effects of secondhand smoke by banning smoking and the use of electronic cigarettes in virtually all workplaces; close to hospital entrances; and in City parks, beaches and pedestrian plazas.
Smokeless Tobacco Ban in Stadiums and Arenas
Local law 42 prohibits the use of smokeless tobacco among anyone on the premises at sports arenas and recreational areas that issue tickets. Smokeless tobacco means any tobacco product that is intended for any oral or nasal use other than smoking.
"No Smoking, Electronic Cigarette Use, and Smokeless Use" signs are required to be prominently and conspicuously posted where smoking, using electronic cigarettes, and using smokeless tobacco is prohibited according to local law 42. The Smoke free Air Act Local Law 47 states the requirements of the sign.
Shipping and Handling Cost:

Our Shipping is fixed whether you buy 1 item or 20 items (We Ship within USA Only) - do not miss this opportunity to buy all signs needed at no additional shipping cost.
Sales Tax:
We are required to collect sales tax on any product sold on this site and shipped to an address in New York. The sales tax is 8.875 percent.
Notice: 
The requirements for sign content are determined by intended use and by applicable regulation. The BUYER is responsible for determining the appropriate content for a sign or package of signs. Firedepartmentsigns.nyc makes no warranty or representation of suitability of a sign for any specific application. IT IS THE CUSTOMER'S RESPONSIBILITY TO ENSURE THAT THE SIGNS THE CUSTOMER ORDERS ARE IN COMPLIANCE WITH ALL STATE, FEDERAL, LOCAL, AND MUNICIPAL LAWS. Please review terms and conditions prior to purchase. 
For more information about what is required, see the laws that are referenced and the rules applicable to your city and state. This page is for informational purposes only and is not intended as legal advice, professional advice or a statement of law. You may wish to consult with an attorney.

Find us on:
WE ARE THE OFFICIAL SITE FOR FIRE DEPARTMENT REQUIRED SIGNS. FireDepartmentSigns will provide you with all FIRE DEPARTMENT required signs, NYC Building required signs, CALIFORNIA FIRE DEPARTMENT required signs, TEXAS FIRE DEPARTMENT required signs and all sprinkler required signs. We are the biggest building Management-signs provider in the world. We offer all signs made mandatory by the City and state building department as well as required building  signs, aluminum signs to install in buildings with proper HPD designation, and NO SMOKING OR ELECTRONIC CIGARETTE USE SIGN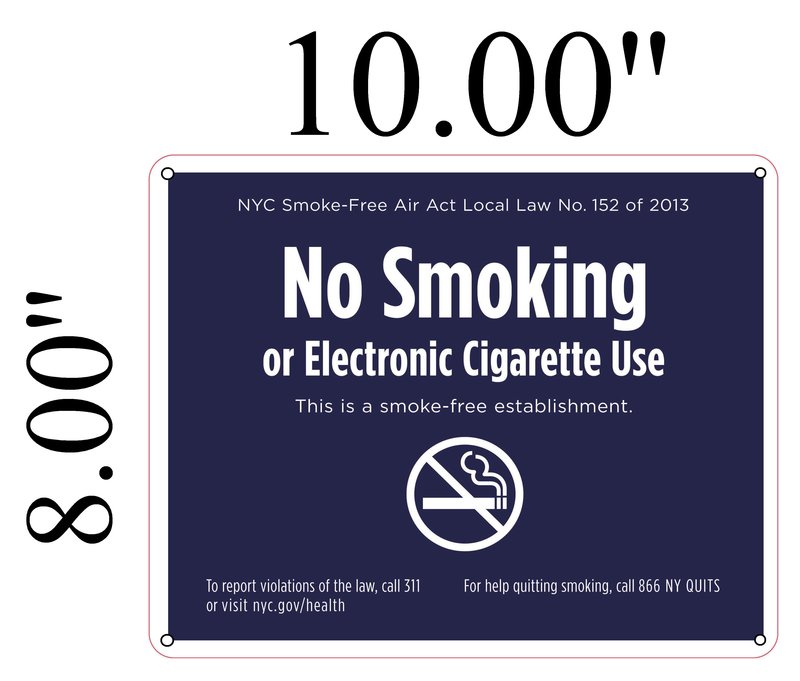 This is an aluminum "NO SMOKING NO ELECTRONIC CIGARETTE USE" SIGN with holes for HEAVY DUTY installation. In NYC use/post sign to inform tenants/owners/guests/officers of NO ELECTRONIC CIGARETTES ALLOWED SMOKING NOT PERMITTED in facility with proper HPD designation and aluminum signs
Featured Products