NYC Smoke free Act Sign "No Smoking or Electric cigarette Use" - WITH WARNING( 8.5x11, BLUE)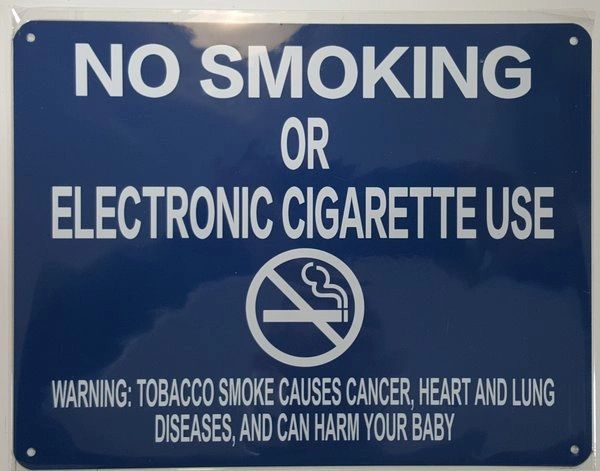 NYC Smoke free Act Sign "No Smoking or Electric cigarette Use" - WITH WARNING( 8.5x11, BLUE)
NYC Smoke free Act Sign "No Smoking or Electric cigarette Use" - WITH WARNING  ( 8.5x11, blue) sign.
Size  8.5 Inch x 11 Inch

Sign has mounting holes in each corner.
Round Corner
Sign Thickness is 0.023 of a inch
Sign letters color: white
Sign background color: Blue
Sign Type Wall Mounted
Sign Group : NYC Smoke free, NYC HPD , Management Hallway Sign, DOB Safety Sign, NYC Construction signs, HPD required signs,HPD signs, NYC Fire Department Signs, NY fire Department Required Signs  

This is an aluminum "NO SMOKING or electronic cigarette" SIGN with 4 holes for installation.In NYC post sign to inform tenant/owner/guest/officer of no smoking hallways/stairs & more designated areas
This is a type of HPD aluminum NO SMOKING SIGN with holes for installation.In NYC use/post sign to inform owners/tenants/guests/customers/officers of designated no smoking area and room in facility with proper HPD designation

NYC Smoke-Free Air Act sign (SFAA sign)
The Smoke Free Air Act (SFAA), in effect since March 30, 2003, prohibits smoking in virtually all workplaces and indoor recreational venues. As an amendment to the 1995 Smoke- Free Air Act, it extends rules on smoking to all restaurants and most bars regardless of the number of seats they offer and regardless of their size. The law also restricts smoking in some outdoor restaurants and bar seating areas.

Important Notice to Operators of Residential Buildings With Three or More Dwelling Units as of February 24, 2018
Starting February 24, 2018, smoking or using electronic cigarettes (e- cigarettes) will be prohibited in common areas of residential buildings with three or more dwelling units.
New York City recently passed a law (Local Law 141) prohibiting smoking or the use of e-cigarettes in common areas of private residences with three or more units. This law amends the City's Smoke-Free Air Act, which currently states that smoking and using e-cigarettes in common areas of private residences with ten or more units is not allowed. Local Law 141 extends the City's Smoke-Free Air Act to a greater number of private residences - specifically those that have between three and nine units. This law goes into effect on February 24. 2018.
As a result of this law, residential buildings with more than three dwelling units must post "NO SMOKING" and "NO ELECTRONIC CIGARETTE" signs.
These signs must be clearly visible to residents and should be posted in lobbies, and in other locations if needed, as required by the New York City Administrative Code §17-506 and the Rules of the City of New York, Title 24, §10-12. See the other side of this letter for more details on these requirements.
If you have questions about this law or the Smoke-Free Air Act, call 311.
Rules of the City of New York, Title 24, §10-12
Rule §10-12 provides in pertinent part as follows:
(c) All signs required to be posted pursuant to the Act shall conform to the following specifications:
(i) Lettering and symbols shall be at least one-half (1/2) inch in height and shall be color
contrasted so that all information is clear, conspicuous, and easily readable.
***
(iii)          Signs shall be printed on durable material.
(iv)         Wording and symbols listed below are [Health] Department-approved. However, except for the Warning set forth in subparagraph (c)(iv)(D) of this section, other similar wording may be used.
(A) No smoking signs:
(1)          International symbol or
(2)          "NO SMOKING"
***
(E) No electronic cigarette use signs:
"NO ELECTRONIC CIGARETTE USE"
***
(H) No smoking and electronic cigarette use signs:
"NO SMOKING OR ELECTRONIC CIGARETTE USE"
***
(d) Signs shall not be required to be posted in areas not regulated by the Act or these rules
For More information 
Shipping and Handling Cost:
Our Shipping is fixed whether you buy 1 item or 20 items (We ship within USA only) - do not miss this opportunity to buy all signs needed at no additional shipping cost.
Sales Tax:
We are required to collect sales tax on any product sold on this site and shipped to an address in New York. The sales tax is 8.875 percent.
Notice: 
The requirements for sign content are determined by intended use and by applicable regulation. The BUYER is responsible for determining the appropriate content for a sign or package of signs. Firedepartmentsigns.nyc makes no warranty or representation of suitability of a sign for any specific application. IT IS THE CUSTOMER'S RESPONSIBILITY TO ENSURE THAT THE SIGNS THE CUSTOMER ORDERS ARE IN COMPLIANCE WITH ALL STATE, FEDERAL, LOCAL, AND MUNICIPAL LAWS. Please review terms and conditions prior to purchase. 
For more information about what is required, see the laws that are referenced and the rules applicable to your city and state. This page is for informational purposes only and is not intended as legal advice, professional advice or a statement of law. You may wish to consult with an attorney.

Find us on:
WE ARE THE OFFICIAL SITE FOR FIRE DEPARTMENT REQUIRED SIGNS. FireDepartmentSigns will provide you with all FIRE DEPARTMENT required signs, NYC Building required signs, CALIFORNIA FIRE DEPARTMENT required signs, TEXAS FIRE DEPARTMENT required signs and all sprinkler required signs. We are the biggest building Management-signs provider in the world. We offer all signs made mandatory by the City and state building department
Featured Products