Key Access Lock Box - Wall Mounted Lock Box (Heavy Duty 4-Digit Combination Lock Box)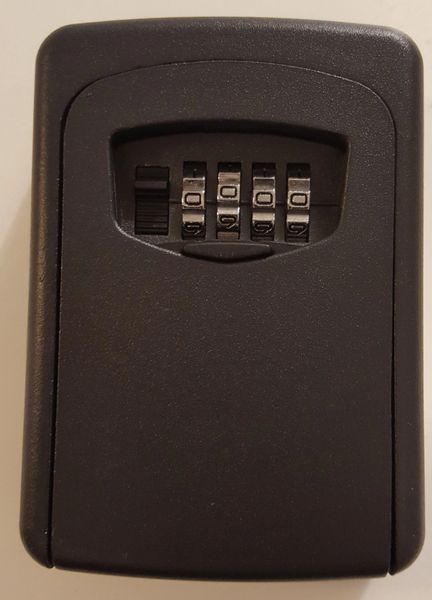 Key Access Lock Box - Wall Mounted Lock Box (Heavy Duty 4-Digit Combination Lock Box)
4-Digit Combination Lock Box - Key Storage Lock Box (Heavy Duty Wall Mounted Lock Box)
Dimensions
·         Body Height: 4.75"
·         Body Width: 3.5"
·         Depth: 1.5"
This Key Access Lock box is our perfect solution for your key storage needs. The heavy duty lock box is the perfect solution for homeowners, real estate brokers, realtors, property management experts, vacation rentals experts and anyone looking for a safe place to keep/store their keys. The Safe Lock Box can be opened with only one of the 9,999 combinations, which the 4 digit dials of the Lock box save. The combination lock box has a black color with matte finish. It provides for safe key access storage with easy wall mounted installation and 4-digit box that is designed so as to mount on walls.
·         Provide sturdy and highly secure keyless access for brokers, friends, family or guests that need safe entry when no one is around
·         Simply attach the 4-digit combination lockbox to a wall
·         Easily set the password of the Combination Key Box with up to 9,999 unique combinations
·         The Password Lockbox is made from durable metal
·         Dial cover of Password Box will keep dirt from getting inside its combination lock
·         The Password Access Keybox holds up to 5 house keys
·         The Perfect Key Storage lockbox is ideal for home owners, realtors, property managers, children and more
·         The Box Key Access at hand provides for easy operation. The Key Box is easy to install and use. You can set your favorite numbers as your password. The 4-digit passwords lockbox can be set so as to be easy to remember and reset.
·         The Password Access Keybox can be used in many ways. It is suitable for outdoor use. It can be attached/fixed to walls and provide for needs regarding emergency entry, vacation home, pet sitters, etc.
·         The PIN Key Access Box lets you set your custom PIN in seconds. The instruction guide of the PIN Box takes you through the steps you need to follow in order to reset the password of the PIN Access Key Box at any time
·         The Safe Key PIN Box is designed for easy installation and comes with pre-drilled holes. It comes with the following mounting hardware: 4 screws and 4 Nylon Expanding Wall Anchors. The Anchors and screws ensure that the key safe PIN access box keylock box can be mounted on solid surfaces
Related: Lock Boxes, Storage Key Boxes, Key Storage Lock Boxes, Combination Lock Boxes, Wall Mounted Lock Boxes, Access key lock boxes, Key Storage Lock Boxes, Key Safe Boxes
This is a Key Access Lockbox for key storage and access to keys. The heavy duty lock box is good for homeowners,real estate brokers,realtors,property managers,vacation rentals & many buildings looking for ways to ensure safe access or keep/store keys
Shipping and Handling Cost:
Our Shipping is fixed whether you buy 1 item or 20 items (We Ship within USA Only) - do not miss this opportunity to buy all signs needed at no additional shipping cost.
Sales Tax:
We are required to collect sales tax on any product sold on this site and shipped to an address in New York. The sales tax is 8.875 percent.
Notice:
The requirements for sign content are determined by intended use and by applicable regulation. The BUYER is responsible for determining the appropriate content for a sign or package of signs. Firedepartmentsigns.nyc makes no warranty or representation of suitability of a sign for any specific application. IT IS THE CUSTOMER'S RESPONSIBILITY TO ENSURE THAT THE SIGNS THE CUSTOMER ORDERS ARE IN COMPLIANCE WITH ALL STATE, FEDERAL, LOCAL, AND MUNICIPAL LAWS. Please review terms and conditions prior to purchase. 
For more information about what is required, see the laws that are referenced and the rules applicable to your city and state. This page is for informational purposes only and is not intended as legal advice, professional advice or a statement of law. You may wish to consult with an attorney.
Find us on:
WE ARE THE OFFICIAL SITE FOR FIRE DEPARTMENT REQUIRED SIGNS. FireDepartmentSigns will provide you with all FIRE DEPARTMENT required signs, NYC Building required signs, CALIFORNIA FIRE DEPARTMENT required signs, TEXAS FIRE DEPARTMENT required signs and more. We are the biggest building Management-signs provider in the world. We offer all signs made mandatory by the City and state building department as well as Key Access Lock Box - Wall Mounted Lock Box (Heavy Duty 4-Digit Combination Lock Box)
Featured Products

EMERGENCY SHUT-OFF SWITCH FOR BOILER SIGN (ALUMINUM SIGN SIZED 4X12)
$9.99

FIRE HOSE SIGN (ALUMINUM SIGN SIZED 4X12)
$7.99

SPRINKLER SIGN (ALUMINUM SIGN SIZED 4X12)
$8.99