HPD HOUSING INFORMATION GUIDE SIGN (WHITE ALUMINUM SIGN)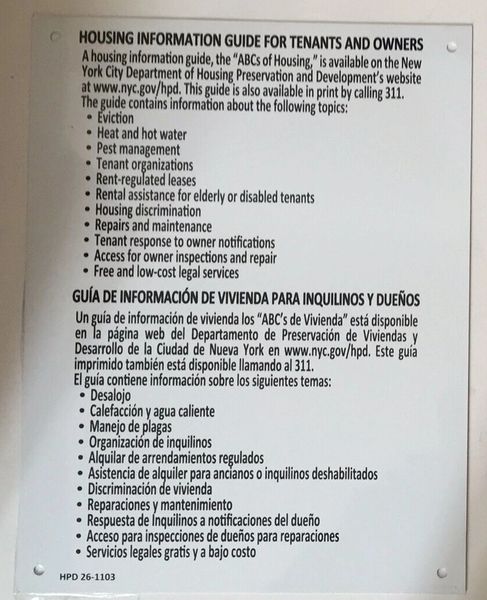 HPD HOUSING INFORMATION GUIDE SIGN (WHITE ALUMINUM SIGN)
HPD HOUSING INFORMATION GUIDE SIGN (NYC Admin. Code § 26-1103)
Aluminum Sign

Size  12.83 inch x  9.842 Inch   ( 250MMx326MM)
Sign has mounting holes in each corner.
Round Corner
Sign Thickness is 0.023 of an inch
UPS: 762952455313
Part#: HPD26-1103
Sign letters color: black
Sign background color: Off White
 Sign Group : NYC HPD , Management Hallway Sign, HPD SIGNS, NYC Construction signs, HPD required signs, HPD sign, NYC Fire department sign, , HPD notice, HPD NOTICES
Housing Information Guide
Local Law 45 of 2014 of the New York City Administrative Code, Section 26-1103, requires posting a notice regarding the availability of a housing information guide for tenants and owners. The notice must be in a conspicuous place within view of the area to which mail is delivered in a multiple dwelling. A sample of the notice can also be obtained upon request through 311 or at any of our local Code Enforcement offices.  Inspectors will be verifying that the signage is appropriately posted on all inspections. Failure to post the notice will result in a class A violation, and a civil penalty of $250 may be imposed. To read the code- click Here
Housing information guide notice. Notify tenants about the availability of the New York City housing information guide by posting a notice near the mail delivery area.
This is a Required Notice
 Post a notice about the availability of a housing information guide for tenants and owners in a conspicuous place within view of the area in the multiple dwelling to which mail is delivered
What Are the HPD signs Requirements click here
NYC official web site for HPD SIGNAGE REQUIREMENTS -CLICK HERE
Featured Products

EMERGENCY SHUT-OFF SWITCH FOR BOILER SIGN (ALUMINUM SIGN SIZED 4X12)
$9.99

FIRE HOSE SIGN (ALUMINUM SIGN SIZED 4X12)
$7.99

SPRINKLER SIGN (ALUMINUM SIGN SIZED 4X12)
$8.99